The Books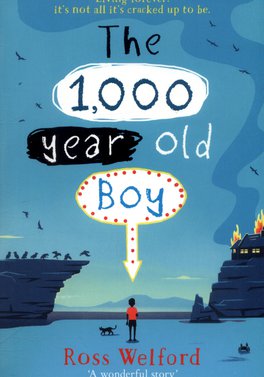 The 1,000 Year Old Boy
ISBN: 9780008256944
Alfie Monk is like any other nearly teenage boy - except he's 1,000 years old and can remember the last Viking invasion of England. Obviously no one believes him, so when everything Alfie knows and loves is destroyed in a fire, and the modern world comes crashing in, he embarks on a mission to find friendship, acceptance, and a different way to live - which means finding a way to make sure he will eventually die.
Reviews
Molly - Kimberley School - 2019
It was an amazing story about a boy that has lived for 1000 years. The fact it was written in the past and present was really cool. I liked the way things that were referenced earlier in the book were later explained. Overall, a great book.
Grace - Kirkby College - 2019
I really enjoyed this book! It was very fun to read and the ending was very nice. Overall, i would recommend this to anyone looking for any type of book to read.
Oscar - Kimberley School - 2019
A moving tale that expresses what a privilege growing up is. Alfie has had to deal with so much of history, without being truly old enough to comprehend it. He has to experience the world around him not knowing what he has seen (apart from his closest friends) otherwise he will risk legal trouble, something he has had to avoid for years. The most valuable lesson you can take away from this is that it is better being able to value your days, instead of every one being worthless, and not worth treasuring.
Ella - Nottingham Girls High School - 2019
I enjoyed this book because it was funny and it also rotated the points of view depending on which character was going through something. However, I would have preferred a bit more adventure in the middle of the story.
Libby - Kimberley School - 2019
This is an extremely enjoyable book that will make you laugh. My only criticism is that it can get a bit confusing but overall, great book!
Narisse - Nottingham Girls High School - 2019
This book could have been a 5 star book apart from the fact it was too slow moving. The characters would always go back to a point which in the overall book wasn't always necessary. The good part however is that you could understand the characters and how they felt at a particular time. The book does seem to get better about half way through.
Saanvi - Nottingham Girls High School - 2019
This book was very interesting and big. It was very well described, I felt as if I was there myself with Alfie, Aidan and Roxy. It was very intriguing to read year old boy. His pain after losing his mother was described so well, it was about Alfie's experiences as the 1,000 as if I could feel his pain myself. However it would have been easier to understand if each chapter had the boy's name to show who's perspective it was from.
Erin - Ashfield School - 2019
Amazing book! Can almost believe that the Neverdeads exist because of how well this book is written. I recommend this book to all who like to believe in the impossible.
Owen - Ashfield School - 2019
This book was one of the best books I have EVER read utterly fabulous. It is about a boy who wants to stop living but stay with his friends what will happen? Fun energetic and fast paced style if all the other books are the same as this it will be a very hard decision.
Nitya - Nottingham Girls High School - 2019
I thought the 1,000 year old boy was quite a good book, because people usually think that living forever is amazing, but actually it isn't as good as they think, and this book really highlighted that fact.
Olivia - George Spencer Academy - 2019
I really like the history based theme and I like how there was lots of adventure and mystery. In the beginning, I felt sorry for the 1000 year old boy. Overall the book was amazing.
Kyle - Kirkby College - 2019
Extremely well written sometimes confusing with reality of living forever eventually wanting to carry on living and die like most people.
Jake - Kirkby College - 2019
This book was very good. It tells you a story about young boy Alfie Monk. He is over 1,000 years old and he remembers the last Viking invasion of England. This book has thrills and ups-and-downs.
Chloe - Kirkby College - 2019
I enjoyed this book because it explains what it feels like to live for 1000 years. It's very interesting and I think Ross Welford has done an amazing job with text, punctuation, literacy techniques but over all I would love to read this book again.
Bradley - Kirkby College - 2019
Very interesting and creates great tension and makes the reader carry on reading.