The Books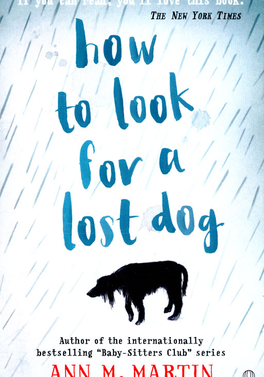 How to Look for a Lost Dog
ISBN: 9781474906470
11-year-old Rose is autistic and struggles to understand her classmates. But when her father gives her a stray dog, which she names Rain, the dog becomes her best friend, her anchor in a confusing world. So when Rain goes missing during a storm, Rose refuses to stop looking for her.
Reviews
Sofia - Minster School - 2017
I enjoyed it. My favourite character is Rose Howard. It was realistic and happy/sad. It makes me appreciate animals.
Freya - Minster School - 2017
I thoroughly enjoyed the book because of the excitement, drama and feeling for the main character. Rose created a dramatic feeling for herself and her dog, she also makes the reader feel slightly angry at Dad for letting Rain go outside without her collar.
Asher - Minster School - 2017
I really enjoyed this book. I easily connected with it emotionally , probably because my siblings are autistic like Rose, and I thought it was beautifully written. I loved the plot itself, and the certain bits even brought a tear to my eye. My favourite part was the ending, it was just so wholesome and pleasing, and I'm glad it ended as I thought it would! Overall, fantastic!
Kate - Minster School - 2017
Yes, it is a great book - it is very sad at parts, but it is also quite happy because she gets a friend at the end. I think the ending is a bit rushed though.
Katie - Minster School - 2017
I enjoyed this book, it had an interesting storyline and at times I couldn't put it down! It was a little bit sad, but I was also happy for her as she was doing the right thing. It was quite simple as it was written from Rose's perspective, but I liked that as it meant there were no long, complicated words. My favourite part is at the end, when Rose makes a friend; it's nice as she's lost Rain but she's found a new person to talk to.
Alison - Minster School - 2017
I enjoyed this book because of how miserable and yet joyful it was. My favourite character was Rose (rows), as her disability did not hold her back.
Elena - Minster School - 2017
I loved this book, I wished it would go on for longer. It had a funny ending, it didn't really tell you what happened, and there wasn't really a twist, but it was a well written book.
Liza - Minster School - 2017
I enjoyed the book because it had a sad yet happy feeling - Rose is very happy with Rain yet she lives with an abusive father. My favourite character is Rose because of the homonym of her name (rows), and also how she does a very brave thing at the end.
Poppy - Minster School - 2017
I loved this book as it sounds so realistic. It makes you appreciate the good things in life. My favourite character is Rain the dog as she is always happy and there to comfort Rose when she is stressed.