The Books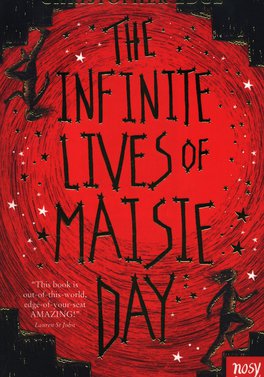 The Infinite Lives of Maisie Day
ISBN: 9781788000291
It's Maisie's birthday and she can't wait to open her presents. She's hoping for the things she needs to build her own nuclear reactor. But she wakes to an empty house and outside the front door is nothing but a terrifying, all-consuming blackness. Trapped in an ever-shifting reality, Maisie knows that she will have to use the laws of the universe and the love of her family to survive. And even that might not be enough.
Reviews
Oscar - Kimberley School - 2019
A heart-gripping thriller! It has relatable characters that take you through a journey of love, death and Maisie's scientific knowledge to guide you through the complex and developed storyline. The only downside is that it can be difficult to cope with the questions it raises. If you find it difficult to understand, don't be afraid to read it over.
Jake - Kirkby College - 2019
This book is all about a young girl, Maisie Day, who wakes up on her 10th birthday in an empty parallel universe. This book has thrills, has ups and downs and has sadness at the other end of the corner.
Grace - Kirkby College - 2019
I really enjoyed this book! It was sort of confusing at the beginning but its gets clearer as you get towards the end! I would recommend this book to anyone who likes to read short books or has an interest in science! It was one of the best books I've read this year! I really didn't expect the book to end like that!
Illia - Kimberley School - 2019
The Infinite Lives of Maisie Day is a very interesting book some might even call it a page turner. Personally I think it is a very good book and it made me want to read on. Also the types of descriptions are very interesting as it gives detail to the book. I enjoyed the book, this is why I gave it a 4 out 5
Molly - Kimberley School - 2019
A great book! It was definitely confusing when I first started reading it but it was easier to understand as I read more. There are lots of plot twists, this book is easily a page turner. There were lots of technical science words in there but they were all explained in a way the average student could understand. I would reccommened it to anyone that is wanting a short book to read or that has an interest in science.
Jaia - Nottingham Girls High School - 2019
I enjoyed this book as it shows real struggles of academically gifted children and what they are feeling. It also gives real facts such as what a Mobius strip is and so on. But at one point, it got slightly confusing as to what was happening. I still really enjoyed it though!
Katie ` - Bulwell Academy - 2019
Fantastic, interesting book with a unexpected plot-twist towards the end. I really enjoyed this book, it was a real page-turner! The book is about a girl that is abnormally intelligent for her age and what she experiences. It was very well written.
Erin - Kimberley School - 2019
I think this is a great Si-Fi book that I couldn't put down! But is definitely for older readers as it can get confusing at points, That however has nothing to do with the incredible ending that really warms your heart.
Emily - George Spencer Academy - 2019
The infinite lives of Maisie Day was an amazing book with a lot of interesting parts. It was full of mystery and it was educational with lots of facts included. There was an extremely sad part and I did get a bit lost when it changed from scene to scene without any notice but overall I loved the book
Elyssa - Nottingham Girls High School - 2019
I enjoyed the book because of the fact that Maisy's life was split in to two lives at the start. The book was very gripping as well and was quite hard to put down! I think it will compete against the other books well.
Saanvi - Nottingham Girls High School - 2019
This book was very enjoyable as she was in alternate dimensions in alternate chapters. However, some parts were slightly confusing. The book had actual real scientific information which surprised me such as Möbius strip, black hole and infinity. It was quite short and I wished it was tiny bit longer. As I would have enjoyed the plot line more, if it was more developed and longer.
Nitya - Nottingham Girls High School - 2019
I thought that The Infinite Lives of Maisy Day was a fantastic book, because it left quite a prominent message about a lot of subjects such as peer pressure, jealousy and being left out. I really liked how metaphors were used, like the never-ending staircase.
Anna - George Spencer Academy - 2019
I like it because it was a very creative idea but I thought the way it was written was slightly confusing. it was good over all.
Gemma - Nottingham Girls High School - 2019
I love this book. I love how the author made one chapter without Maisy's parents there and there was total blackness outside. The next chapter then has her parents there. At the end I like how the two stories are brought together for the ending. I would recommend this book to others.
Aleksandra - Ashfield School - 2019
I think that this book is out of this world!I could not put it down to see the explanation of what was happening.I would say this book is thrilling and spine-chilling. and definitely recommend it. Thank you